Now that we've explored how the Cincinnati Bengals might spread passes to receivers under new offensive coordinator Hue Jackson, let's take a look at how they might coordinate touches for their running backs.
In the story linked above, we used receptions — not targeted plays — to compare how often Jackson's offenses in Oakland saw receivers and running backs catching passes. The split indicated that running backs Giovani Bernard and Jeremy Hill ought to brace for numerous receiving opportunities this fall. Assuming Jackson keeps elements that worked for the Raiders, the Bengals could easily have two running backs with 25 or more catches this season.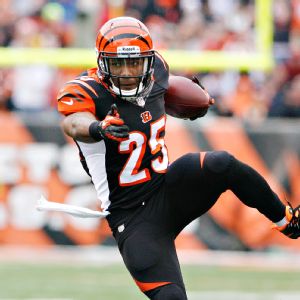 Mark Zerof/USA TODAY Sports
With Hue Jackson's plan to increase the pace of the Bengals' offense, it's safe to assume that Giovani Bernard sees at least 275 touches this season.
Coupled with the rushing the Bengals are expected to do, those 50 passes could be key elements in an offense that's expected to be explosive and productive.
We'll begin Friday's factoid with this figure: 450.
Cincinnati's top two ballcarriers, Bernard and BenJarvus Green-Ellis, had 450 touches combined on offense last season. Bernard barely edged his fellow back, getting 226 touches compared to Green-Ellis' 224. Bernard's came from his 170 rushes and 56 receptions. Green-Ellis' came from his 220 rushes and four receptions. Put them all together and you get 450 rushes and receptions from the two of them.
For now, it isn't clear exactly how many options the Bengals will have at running back, or how often they might use them all. Green-Ellis appears on the bubble as we enter Thursday's start of training camp. Rex Burkhead and Cedric Peerman also appear to be in the mix. Hill and Bernard certainly are and figure to at least be the top two options at the position this year. The big question from a production standpoint is if they'll get significant help from Green-Ellis, Peerman or Burkhead, too.
The reason the amount of running back touches is an issue is because Jackson, in the seven months he's been offensive coordinator, has stressed how he wants to increase the amount of carries his backs have. He wants his offense to be more physical than the Bengals were overall last year. He wants the passing game to develop off the running game; not the opposite.
That's why it's easy to assume that Bernard might not only get 200 carries this year, but it's easy to assume that he may in fact hit 250 or more. Hill, too, could hit the 200-carry plateau if he's one of the primary backs used this season. It's possible to believe Bernard could have 275 or more offensive touches, and Hill could have somewhere in the neighborhood of 230 or 240. Combine those, and they could easily have more than 500.
But again, that's only if they are the primary ballcarriers. It's possible that Green-Ellis, Peerman or Burkhead could have significant enough touches to keep Bernard and Hill's combined numbers well under 500.
Which leads me to this: Is it really important how many touches any of the running backs in this offense get? Probably not. Remember, we're talking about an offense that hinges on its multiplicity of playmaking options. As former offensive coordinator Jay Gruden was apt to say, "there's only one ball." With A.J. Green, Marvin Jones and Mohamed Sanu poised for productive seasons at receiver and the tight end tandem of Jermaine Gresham and Tyler Eifert hoping for better production and more effective play, there are only going to be so many opportunities for running backs. And that's even if they do as Jackson wants, and run more plays per game than they did last season.
Jackson hopes his group is able to get more plays off per drive and per game. But how many more plays will they be running? Last season Cincinnati ranked sixth in the NFL in snaps with 1,097. The Lions led the league with 1,156. Even assuming the Bengals run 1,200 plays next season, they'll still be sharing the bulk of their touches between two or three running backs, three to four receivers and two tight ends. Those odds make it increasingly difficult for a back like Bernard to have 300 or more individual touches. Not saying that won't happen, but if it does, expect someone else's production to take a hit.
One Raiders back came close to 300 when Jackson coached in Oakland. Michael Bush had 293 in 2011. Darren McFadden had 260 in only 13 games in 2010. He had a chance to go over the 300-touch plateau had he played the whole season. Under Gruden in 2012, Green-Ellis got exactly 300 when he rushed 278 times and caught 22 passes for the Bengals.
Only nine running backs in the NFL had more than 300 touches last season. LeSean McCoy paced all with 366 rushes and receptions. Knowshon Moreno, who played for a playmaker-rich Denver team that was similar to Cincinnati's, had 301. He also was the only Broncos running back to have more than 125 carries. Remember, the Bengals had two with more than 170 last year and should have two this year who will go beyond that number again.
That just goes to show that a talented and deep offense like Denver's had trouble getting a premier back to 300 touches. If Bernard somehow gets there this year, he'll likely barely do so, too.