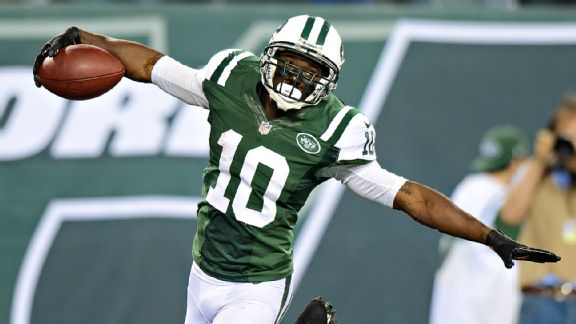 Ron Antonelli/Getty Images
The Jets don't want to see Santonio Holmes celebrating in his return to MetLife Stadium.
FLORHAM PARK, N.J. — Let's start off by making this perfectly clear: The New York Jets made the right move by releasing Santonio Holmes last offseason. Too much money, too much baggage and not enough production.
Unfortunately for them, this isn't a case of out of sight, out of mind, because Holmes is very much on their mind as they prepare for the Chicago Bears. Even though he's a diminished player, he poses a threat to the Jets because he's a wide receiver, and any wide receiver with two healthy hands and sub-5.0 speed in the 40 has to be classified as dangerous against their porous secondary.
It's the Jets' worst nighmare, Holmes turning "Monday Night Football" into his personal stage, scoring a big touchdown and doing that silly jet-plane celebration. It's not a far-fetched scenario. For all his shortcomings, he's always been a big-moment player. He has a Super Bowl MVP trophy to prove it.
Imagine the fallout if the Jets go from The Timeout to Tone Time in one week. Actually, you don't want to imagine that.
Rex Ryan, not wanting to give Holmes any motivational fuel for his homecoming, gave his former player a glowing endorsement Wednesday during a conference call with the Chicago media. He portrayed Holmes as a cross between a Boy Scout, an altar boy and Jerry Rice, insisiting it's "totally untrue" that the petulant receiver was a divisive influence in the locker room during his five seasons with the Jets.
I believe Ryan when he says he genuinely likes Holmes, but Ryan also knows that Holmes, whose mouth sometimes was like the bull in the china shop, was the root of the locker-room turmoil that made the Jets a national punchline in 2011.
Who could forget the end of the 2011 season, when Holmes clashed with teammates and was thrown out of the huddle with two minutes remaining in the final game of the season? At the time, one member of the organization described him as "a pain in the ass." They probably would've cut him if they didn't owe him so much guaranteed money, the result of a five-year, $45 million contract extension before the '11 season. He still counts on their salary cap, $2.5 million.
Holmes is the reason why the Jets no longer have captains. Ryan appointed Holmes a captain in 2011, certainly not one of the coach's most inspired decisions. The power went to his head, and his mouth, as he publicly criticized the offensive line after a particularly tough loss. When the season ended, Ryan announced, "No more captains."
Reminded of that sorry chapter, Ryan claimed the decision wasn't based on the misbehaving Holmes. Pressed, Ryan finally acknowledged, "It might not have been a great selection." He also admitted that Holmes threw teammates "under the bus" for his critique of the offensive line, but Ryan doesn't think Holmes meant it to come out that way. He called him a good teammate, a "dude who won a lot of games for us."
They don't want him to win Monday night in MetLife. Obviously, the Jets are focused on Brandon Marshall and Alshon Jeffery, Jay Cutler's favorite targets, but they can't forget about Holmes. His surgically repaired foot is healthy and, despite only four catches for 41 yards, he looks like the Holmes of old, according to the Jets' defensive players. He played 73 percent of the offensive snaps in last week's win over the San Francisco 49ers, so you know he'll be out there a lot.
Not surprisingly, Holmes declined a request this week to speak with the New York media via conference call. As much as he disliked the New York media, he occasionally created headlines with foot-in-mouth remarks. There was the time last December when he said the Carolina Panthers' secondary was "the weakest link" on their defense, infuriating the defensive backs, who played career games in a win over the Jets.
Hey, maybe Holmes will incite the Jets by insulting their secondary. Said one player: "I don't think anyone would mind that."