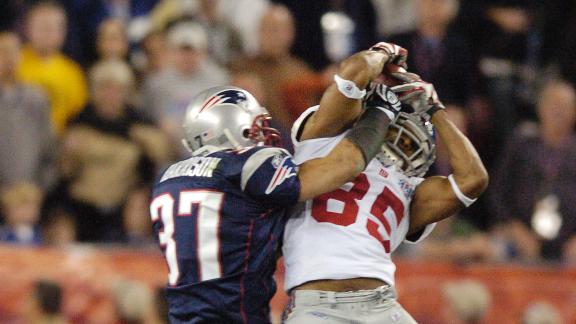 EAST RUTHERFORD, N.J. — I wrote about the Tony Dungy-Michael Sam controversy on Tuesday, so you know where I come down on the gay rights issue. I think these are issues of human decency, not of religion or culture or the sanctity of the NFL locker room.
But if Dungy merely put his toe over the line and onto the wrong side of this issue, former New York Giants wide receiver David Tyree is the mayor of the wrong side of this issue. In 2011, Tyree said he'd trade his miracle "helmet catch," which led to the Giants winning Super Bowl XLII, in exchange for a law outlawing gay marriage. And he's publicly professed his belief that "there is no scientific data to support the claim of being born gay." Tyree has explained his views by citing his religious beliefs, which is an excuse a lot of people use and is, in my opinion, a crummy reason for treating fellow human beings poorly. You believe what you want to believe, but once you start using it as a weapon with which to mistreat other people, you have lost me.
Anyway, this comes up because the Giants hired Tyree on Tuesday as their new director of player development. And while I don't think wrongheaded views should necessarily prevent a person from seeking and holding a job in his chosen field, I'm surprised that the Giants would make such a tone-deaf move in the current NFL and social climate. The move was ripped by the Human Rights Campaign, and Tyree declined to comment about the criticism when contacted by ESPNNewYork.com.
Obviously, given the sensitive nature of the Michael Sam story, we're at an important social time in NFL history. One of the points of Sam's decision to live his life as an openly gay man trying to play in the NFL is that gay football players in the future will be less afraid to live their lives openly. Sam's story should lead us all to a deeper understanding of each other as people and to treat each other with more kindness and decency regardless of where we disagree or where we're different. People like Tyree stand in the way of that, which is why I don't think this is the right time for Tyree to hold a job like this in the NFL.
Imagine, if you will, there was a hypothetical closeted gay player on the Giants who was thinking about coming out. Maybe he was inspired by Sam, maybe not, but as of, say, Monday, he was thinking about telling the world he's gay. He was nervous but excited about finally not having to feel as though he had to hide who he is — a great, positive thing for the player and the world in general.
And then on Tuesday, the Giants go and hire a guy to work in a position of authority in the organization, and this guy loudly and publicly believes what Tyree believes.
What does that player think now? What does that player do now? What message has his organization sent to players in that position?
Tyree might well be qualified to hold the job of director of player development. Heck, he might be great at it. And maybe his medieval views on this issue won't affect his ability to do the job or relate to players in any way. But given what's going on in the NFL and the world right now, I have to think the Giants could have made a less tone-deaf hire.