BOURBONNAIS, Ill. — While Jared Allen's physical skill set made him an alluring offseason acquisition for Bears, it's the intangibles that stood out in Day 1 of training camp, according to Bears coach Marc Trestman.
"I thought Jared set the tone defensively with Lamarr [Houston] and the guys up front, Jeremiah [Ratliff] up front, just in the start of practice," Trestman said. "That was clear through his performance today that he not only started fast and finished strong."
Chicago's defense netted a Kyle Fuller interception early on in full team work Friday at Olivet Nazarene University, and the momentum from that play seemed to carry the unit through the duration of practice. Walking off the field just minutes after the workout, cornerback Tim Jennings felt "the defense came out with a lot of energy."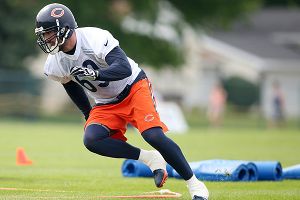 Combined with veterans such as Charles Tillman, Lance Briggs, Jennings and Houston, perhaps Allen served as the catalyst. Of course, Allen won't take credit. He knows his worth is proven by what's done on the field, not rah-rah motivational speeches.
"You're a leader by what you do. I've had success in this league, so for me, it's nothing I want to say to a guy," Allen said. "I'm going to encourage a guy. I'm going to help young guys out if they want it. But the way I'm going to lead is I'm going to show up to work and I'm going to put my best on the field, and I'm going to expect the guy next to me to be his best."
Tillman, Briggs, and Jennings have taken a similar approach, making Allen seemingly a natural fit in Chicago's revamped group chock-full of a mixture of young, ascending players combined with established veterans.
"There's so much change," Allen said. "Guys get to know each other from playing against each other and you have a mutual respect. So it's not like I was totally new. I know Lance. I know Peanut. I know these guys, and as they get to see how I work, the young guys see that, and they see how the vets who have had success in this league collaborate and work together. So there's not much that has to be said. You show up and go about your business, and you expect guys to do the same."
Allen joined the Bears with Hall of Fame credentials as a five-time Pro Bowler, and member of the 100-sacks club, but Trestman believes the defensive end's infectious personality could play into him positively affecting other players on Chicago's defense, which hit historic lows last season, ranking last in the NFL against the run.
Obviously, the addition of Allen doesn't automatically fix things. But his combination of skill and intangibles certainly helps.
"He's a very likable guy in the locker room. He's a fun guy to have a conversation with," Trestman said. "We're excited to have him with us. He's been a tremendous addition in our locker room and we're hopeful it'll translate to the field and the games as well."
The Bears worked a few packages during Friday's workout which feature Allen, Willie Young, Ratliff and Houston all on the field at the same time. When the team runs its base defense, Allen and Houston are the starters at defensive end. But in some packages, Houston kicks inside to defensive tackle next to Ratliff, which should allow Young and Allen to better attack the edges.
As an 11-year veteran Allen knows to temper his excitement, because once the season kicks off, anything can happen. But having been a part of successful defenses in the past in Kansas City and Minnesota, Allen believes the Bears have the ingredients to put together something special.
"We've got quality vets, we've got Pro Bowl guys," Allen said. "We've got guys who are right on that precipice of exploding. I'm excited to work with Willie and Jay Ratliff being healthy again, and Lamarr. We worked on some different packages and stuff today to get all four of us on the field. It's exciting to see the talent level we've got with Briggs behind us and Bostic. You can keep going. I'm excited to play with the DBs, honestly, to have some lockdown corners — the young guy running there flying around and picking balls off today. So that's what's exciting about it. The fans and the media want to talk about what happened last year. I wasn't here. To me that doesn't matter. I know how things can change in one year. I honestly believe — I've been a part of really good defenses — we have those components. As long as guys continue to grow and develop and understand how each other work and the coaches continue to let us work within our scheme, I think we'll be fine."