MANKATO, Minn. — After the Minnesota Vikings named Norv Turner their offensive coordinator in January, it quickly became apparent that tight end Kyle Rudolph stood to become one of the biggest beneficiaries of the move. Rudolph had put together a solid start to his career in Minnesota, winning Pro Bowl MVP honors after his second season and catching 30 passes before breaking his foot in the Vikings' eighth game of last year, but Turner's offense — and his history of featuring tight ends in it — stood to take Rudolph to a new level.
And that came at a good time for the tight end, too. He'd talked at the end of the 2013 season about wanting a contract extension in Minnesota, and said it several more times throughout the winter. But as recently as the beginning of this month, when Rudolph was working out with Larry Fitzgerald at the University of Minnesota, he gave some credence to the theory that it might be in his best interests to wait, put up a big year in 2014 and cash in before free agency next March.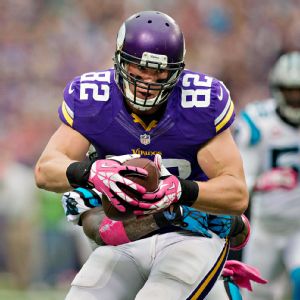 The Vikings clearly saw that possibility, too. Think of the five-year contract extension they gave Rudolph on Sunday night, then, as both a good-faith deposit and a mechanism to ensure some cost certainty.
Rudolph's production (109 catches, 1,055 yards and 15 touchdowns) as well as his reputation as a model citizen, had put him in line for contract extension talks. But if the Vikings had waited, and Rudolph had posted a 65- or 70-catch season, they might have been paying a higher premium to keep Rudolph off the free-agent market next spring. Instead, they got a deal done that could pay Rudolph up to $40.5 million, but presently carries a practical guarantee of just $7.46 million. He'll receive a $960,000 base salary in 2014, according to a league source, as well as a $6.5 million signing bonus.
There's another $12 million of guaranteed money, but that's currently slated to come to Rudolph in case of injury only, until it becomes fully realized at some point in the future if Rudolph is still on the roster on the third day of a given league year (or years, if the remaining guaranteed money is spread over several different seasons). That's the same mechanism the New Orleans Saints used in Jimmy Graham's deal — and Rudolph's guaranteed money is only $1.5 million less than Graham's — but unlike Rudolph, Graham got $13 million guaranteed at the time of signing the deal.
The Vikings' deal with Rudolph (which was first reported by Fox Sports) means the tight end must still produce to unlock much of its worth. There's little reason to think he won't work to earn the money — he's worked to get himself in better shape this offseason — but the Vikings structured the deal in such a way that Rudolph won't get paid like one of the league's top tight ends unless he is playing like one.
Rudolph isn't as fast as Antonio Gates or Jordan Cameron, two other tight ends who have excelled in Turner's offense, but he's a 6-foot-6 target who's caught 11 of his 15 career touchdowns in the red zone. Playing at 258 pounds instead of 273, he could work the middle of the field more effectively and produce big chunks of yardage. That the Vikings gave him an extension now, before he's played a down for Turner, shows they think it's distinct possibility Rudolph will take the next step. They won't be fully committed to the deal, though, unless he does. It's a show of faith, but with mechanisms to limit the Vikings' exposure. In the NFL, that's as fervent as faith gets.