EAST RUTHERFORD, N.J. — It's hard to imagine a less visually appropriate nickname for a defensive tackle than "Gumby," and when the New York Giants' Mike Patterson heard that it had been applied to him, he gave a deep chuckle that sounded nothing like anything that little green stretchy character had ever uttered. But he's heard it before and he takes pride in it.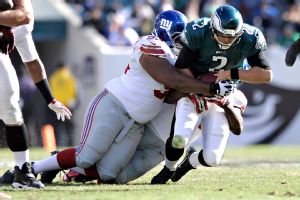 It was Giants offensive line coach Pat Flaherty who said it last week, describing Patterson as "Gumby" for his ability to bend and twist his way through blocks. It is clear from talking to teammates that the nickname has been used before, and that they think it's a good one.
"I've seen him recover from positions that you wouldn't think would be possible," fellow defensive tackle Cullen Jenkins said. "I've seen him lose a step and go down to almost a knee and a hand and then be able to fight back out of it and make a play. He's a great athlete."
Patterson doesn't resemble a great athlete any more than he resembles Gumby. He's 6-foot-1 and, by his own count Tuesday morning, 316 pounds. But he was, back in 2005, a first-round draft pick. And even if you're a defensive tackle, you need to be more than just a big, chubby guy to get picked in the first round.
"I'm able to pretty much have a good bend in my hips," the genial Patterson said after he got done chuckling. "A lot of guys are still and not able to get down low and stay low and take on double teams and move around like that. It's most definitely a technique learned over time and something I didn't get right off the bat. But I kept working on it and it became natural."
Frankly, Patterson's just thrilled about where he is right now, in life and in football. Three years ago, Patterson collapsed on a practice field at Lehigh University during training camp with the Philadelphia Eagles. He played the entire 2011 season once he recovered, but the following offseason he was diagnosed with a rare brain condition called arteriovenous malformation (AVM). That required an extensive surgery that involved removing a part of his skull.
Patterson played only five games in 2012 while recovering from the surgery and then signed with the Giants prior to 2013. He performed well enough in a reserve role last year that the Giants re-signed him when they decided to let Linval Joseph leave as a free agent. And when the first depth chart of training camp hit last week, you'd better believe Patterson enjoyed seeing himself listed as a starting defensive tackle next to Jenkins.
"I'm very excited and very thankful that this opportunity wasn't cut down or cut short for me," Patterson said before Giants practice Tuesday. "Since I've been able to get back to that starting role, I'm taking it very serious and very personal to keep it. I want to go out there and do my best to show them I'm still a good player."
The Giants rotate their defensive tackles routinely, and Patterson knows that he and Jenkins will share playing time with Markus Kuhn and 2013 second-round pick Johnathan Hankins. He knows that Hankins may ultimately be ticketed to replace him as a starter, maybe even by the end of this camp if Hankins shows enough. But in the meantime, Patterson's pride in having re-established himself as an NFL starter is evident — and justified.
"The AVM stuff, I'm just happy to finally put that behind me and just move on," Patterson said. "I've had a lot of questions. People were wondering if I was going to be able to play, things like that. But all that's behind me. Now I'm here, a fresh new year and I'm just excited to be out there with nothing to worry about."