CINCINNATI — Batman, the mythical superhero of DC comic book lore, lurks in the shadows, silently protecting the citizens from the bad guys of Gotham.
Wallace Gilberry, one of the Cincinnati Bengals defensive ends who will help fill Michael Johnson's shoes, thinks of himself much the same way.
He doesn't get the fanfare his colleagues Carlos Dunlap and Margus Hunt receive. He doesn't really seek it, either. He just goes about his job, quietly helping clean up the messes the rest of his defensive line teammates cause with their havoc-wreaking play. His clean up last season included sacks — and a lot of them. In limited action, he tied Dunlap for the team lead with 7.5 sacks.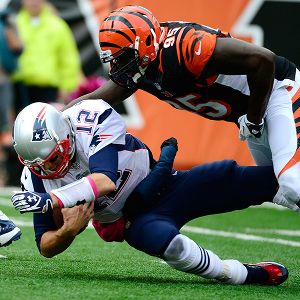 Since Gilberry isn't a primary starter like Johnson was and Dunlap is, and since he doesn't have the sexy, foreign-born-track-and-field-thrower-turned-NFL-prodigy story that Hunt has, it has been hard to remember during his three seasons in Cincinnati that he's been part of an ends group that has recently been regarded among the league's best. For that alone, it has been easy to doubt him. It has been easy for some to assume he shouldn't be part of said group.
Gilberry has a message for those critics: doubt away.
"I'm used to it, man," Gilberry said, smiling. "The 'Dark Knight' is what they call me. So I'm cool with that. I'm going to come in, I'm going to do my job, I'm going to make the plays I'm supposed to make. If you get recognition for that, you get it. If not, well, you know, that doesn't pay my bills."
A former undrafted free agent, Gilberry has felt his entire career that others didn't think he belonged.
"I've always been the darkhorse, so to speak, so I just took the darkhorse and turned it into the 'Dark Knight' because I'm a Batman fan," Gilberry said.
Like he pointed out, even his cars are black. They are but an example of the dark and humbling yet still foreboding persona the lineman is going for.
Gilberry has never been a regular starter, but he has been a contributor throughout his time in the league playing in various sub-packages and situations. He saw the most action of his career last season, receiving 12 snaps more than he had any other season. It's still not like he hadn't been used at all. Through his six previous seasons, he averaged 325 plays. That's just less than half the defensive snaps in a game.
Either way, it's evident he has made the most of those chances.
Along with his 7.5 sacks on 493 snaps last season, Gilberry had 6.0 sacks on 300 plays in 2012. Two seasons prior, while playing in Kansas City, he had 7.0 sacks on 481 snaps.
He hopes his sack numbers go even higher this season, but he'll have a unique set of challenges that might hinder him getting on the field. In addition to rotating with Hunt and trying to stave off other ends, his opportunities could also be limited with Geno Atkins' return. When the Pro Bowl defensive tackle went down in the middle of last season with an ACL injury, Gilberry shifted to the line's interior to provide a more adequate pass rush in Nickel and third-down situations. The extra experience paid off and should help in the event he's forced into backing up again this season.
"All it did was it gave me more opportunities to make plays," Gilberry said about his 2013 fill-in role. "Geno takes up a lot of those opportunities. He is Geno, he's proven. He's the lead dog in this defense. With that being said, I played my role. With him being out, it was a free-for-all and guys got in where they fit in and that's what you saw. Everybody wanted to make plays and everybody's capable of doing that."
Gilberry contends he's also capable of continuing to play at a high level whether he gets the attention Dunlap and Hunt receive or not.
"I don't expect to get no more or no less," he said to reporters. "The chip on my shoulder ain't going no where if you guys pat me on my back or not. It is what it is."
If you choose to continue doubting Gilberry, he wants you to know that you do so at your own risk.
"You can forget [the Dark Knight]," he said, smiling. "That's fine."
So far, the doubt him has paid off for him.