GLENDALE, Ariz. – It wasn't much of a practice but that didn't matter.
It was enough for Arizona Cardinals safety Tyrann Mathieu that he was wearing shoulder pads and a helmet while running and cutting in drills less than 8.5 months after he tore his ACL and LCL in a gruesome hit in Week 14. It's what he's been waiting for. It was the first step to his second comeback.
His return will be methodical. Wednesday, he went through individual defensive back drills and did some running on a side field, but he mostly stood and watched. This is how it'll be for the next couple of days. Then, slowly, Mathieu will be incorporated into contact drills and then team drills.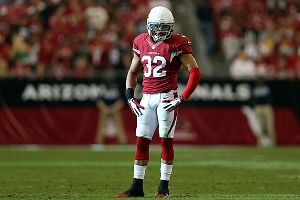 Not rushed yet not too slow.
"Obviously, I want to work my way back in," Mathieu said. "I don't want to step on anybody's toes. I want to earn my right on this field. I just don't want anybody to give it to me. I'm just going to go out there and work as hard as I can.
"Hopefully, my progression goes well."
Cardinals coach Bruce Arians will keep a close eye on how many plays Mathieu makes when he returns to full contact team drills. But it'll be hard for him to keep Mathieu off the field. He's too valuable, too talented, too impactful.
And Arians knows that.
"Well, you don't have to substitute because he has corner ability. He's a safety that can cover. He can play in the slot. He can go out wide," Arians said. "You can stay in your base package and really you still have three corners out there with him and [he has] great range in the deep end of the field. He allows us to do a lot of different things.
"Not that we can't do them with [safety] Rashad [Johnson] and [safety] Tony [Jefferson] but they don't have quite the coverage skills that he has as a corner."
While Arians won't be surprised if Mathieu plays Sunday night against the Bengals, Mathieu all but ruled it out. He has his eyes on a bigger prize: "Monday Night Football." The Week 1 game against the San Diego Chargers been his goal since he began rehab but his return to practice Wednesday made it realistic for the first time.
Before first Arians wants to make sure the Honey Badger can keep up with the speed of the game. To do that, Mathieu must be healthy. No limping allowed, Arians said.
"Practice speed is one thing," Arians said. "Game speed is [another] thing."
There are only two more chances for Mathieu to get reacclimated to the pace of a game. If he doesn't play Sunday, his last chance is Aug. 28 in San Diego. He'll need that moment every injured athlete has during a comeback when he realizes he's the player of old.
Mathieu thinks that'll come on his first play.
"I think I'll be comfortable with it," he said, then correcting himself. "I'll be comfortable with it. I'm just waiting for that moment when I really get tested. Then I'll know for sure whether I'm the same player or whether I'll have to pick it up a little bit."
Mathieu will be wearing a red brace on his left knee for the rest of the season but not by his choice. He'd rather roam without it but he's just following trainers' orders. He's practiced with it on for the past two months and said it's not restrictive.
As the week progresses, Mathieu's knee will continue to be tested. He understands there'll be good and bad days, but he won't let the minor setbacks affect his confidence. Maybe most importantly, he won't feel sorry for himself.
"I'm sure in the middle of the game in this upcoming season I'll get sore, I'll get tight and I'll have to push through it," he said. "I think it's all about what I tell myself. I just try to keep positive thoughts in my mind."
Especially during the last months, Mathieu has turned to his teammates as a sounding board and for their insight. Recently signed linebacker Desmond Bishop told Mathieu he had a similar injury and that once that moment comes, it'll change how he plays.
Wide receiver Michael Floyd, who practiced with Mathieu on an outside field during the past week, told Mathieu he looked "pretty good."
"So, that goes along way," Mathieu said.
On Wednesday, Calais Campbell said Mathieu hasn't lost a step.
"That guy's special," Campbell said. "You can see it in his eyes. He was just excited to be back. You can see the confidence in his look."
That look, the one Mathieu has perfected, started to come back Wednesday.
"It's always good," Arians said. "to have that smile back on the field."